First Dog . . . Midnight First Car. . . Convertible!
$The Buying Page$
It normally takes 1 or 2 weeks to build and ship the armrest you order. Sometimes however it can take 3 weeks or a little longer, even though I try to get them out as soon as possible. It's hard to predict how many orders I will have at any given time, and what life can throw at me while I'm trying to make a quality product.


Armrest for Pedal Steel Guitar
A 2 inch firm foam pad on 3/4 inch plywood with a 1.5 x 1.5 Aluminum Angle Frame with 2 Solid Adjustable Aluminum Clamps to secure the Armrest to the rear legs of your PSG. Please specify size, color, and center to center distance between rear legs on your instrument near the steel guitar body.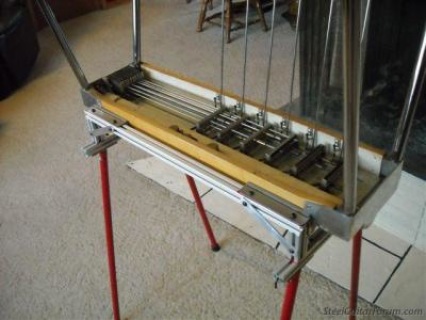 Repair Stand for Working on the Underside of Your PSG. Great for adding knee levers.
This stand will allow you to adjust or do work on the underside of your steel guitar. It allows free access to the strings and tuners too. With the leg extensions you can pull up a chair and work as a free standing unit, or remove the red extensions and there are solid 3" legs to make it a table or bench top stand and still have access to strings with no interference. It may take a little longer for shipping of this product, and some features may be customized to your needs. It is adjustable to accommodate most steels.
If you have any questions about any of the above products, please email me at: donald.blood@ymail.com or give me a call at: 217-935-9192